The Best Android Pregnancy Apps
There are mobile apps for everything today! As a 'mommy to be', find out the best android apps for on-the-go help.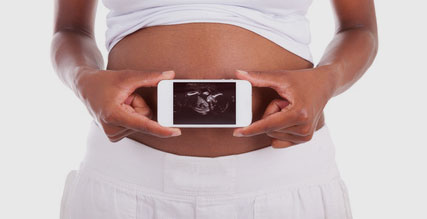 The minute you start letting people know that you are pregnant you will get plenty of advice on the dos and don'ts you should follow. Many of your family, friends and acquaintances will ask you to read certain books, to guide you throughout your pregnancy. However, in today's fast-paced world of technology and smart phones, you don't needs to lug around a stack of books all day long. There are several mobile apps that will give you detailed information on the changes that are taking place within your body and things to expect at every stage. Some of these will also play mom, by reminding you to pack your hospital bags or call your doctor for an appointment. With thousands of such programs to choose from, take a look at some of the best mobile apps for android phones –
1. BabyBump Pregnancy:
With a sleek look, easy-to-use interface and appealing graphics, this is one of the most comprehensive apps in the market. Some of the basic functions that BabyBump Pregnancy performs include –
Calculating your due date
Giving you weekly updates on your baby's development
Tracking your weight, waist size, energy levels and other changes
Providing a forum to meet other parents who are expecting
By upgrading to a Pro version, you can also have access to functions like –
The kick-counter
Contraction timer
Birth plan
Shopping list
Baby naming tool
The basic version of this app is free and the Pro version costs US$ 2.99
2. Pregnancy Tracker:
Often referred to as the mobile version of the classic book "What To Expect When You Are Expecting", this app provides weekly updates on the changes that are about to take place within your body, as well as the changes that your baby is going through. You can document your entire pregnancy visually, with the help of its photographic journal. This free app allows you to connect with other moms-to-be, based on due dates, locations or interests.
3. Pregnancy Diet Calculator
While several mobile apps provide dietary advice, none are customized for pregnant women, as much as this one is! Just make a note of all the food you have eaten for the day and Dr. App will tell you how you are doing and what you should eat, to increase your nutritional intake.
Who doesn't want a free mobile app telling them to eat their veggies?
4. Nutrition Facts Pro
For detailed information on the nutritional content of what you are eating, don't forget to download Nutrition Facts Pro. This application will calculate the percentage of the nutrients you are getting from your meals, based on dietary reference intakes for pregnant women. With over 7,000 different types of food items in its database, this app gives you ample choice of food.
For just US$ 2.44, you can learn plenty about every food you can think of (and those you cannot.)
5. Happy Pregnancy
If you are looking for a weekly journal that can help you track weight gain, body changes, moods, diets and so on, this is the app for you! Other features present in this app include –
Due date countdown
Baby kick counter
Contraction timer
Weekly pregnancy tips
Access to forums
This free app may not be as sleek as some of the others, but it is definitely worth a try.
Online resources and mobile apps have definitely made things very convenient for pregnant women. Do keep in mind though, that these apps cannot replace the guidance and supervision of a doctor. There is no harm in referring to mobile apps between doctor's visits. However, make it a point to schedule regular appointments as required.